Explore the Exercise Science & Sports Medicine Program
Students in the Exercise Science & Sports Medicine program gain a thorough understanding of medical terminology and the human body, including muscles, bones, and joints. They apply fitness and exercise programming techniques to help improve performance or to achieve weight loss. In the program, students learn foundational healthcare and sports medicine information and skills that prepare them to be successful in the healthcare industry.
Engage, Experience, and Learn
In the program, students perform hands-on injury evaluation skills, demonstrate several injury taping and wrapping techniques, develop integrated exercise training programs, create nutrition and weight management programs, and learn key employability traits.
Students prepare for NASM personal trainer certification, immediate employment, and further education. They also participate in HOSA, a career and technical student organization, that aims to empower future health professionals to become leaders in the global health community through education, collaboration, and experience.
Discover Career Opportunities
Explore our career tree to learn about the wide variety of professional opportunities that students are prepared for upon program completion or with further education.
Entry Level: Fitness Instructor, NASM Certified Personal Trainer, Rehabilitation Aide
Technical Careers: Medical Assistant, Radiology Technician, Physical Therapy Assistant
Professional Careers: Certified Athletic Trainer, Physical Therapist, Sports Medicine Physician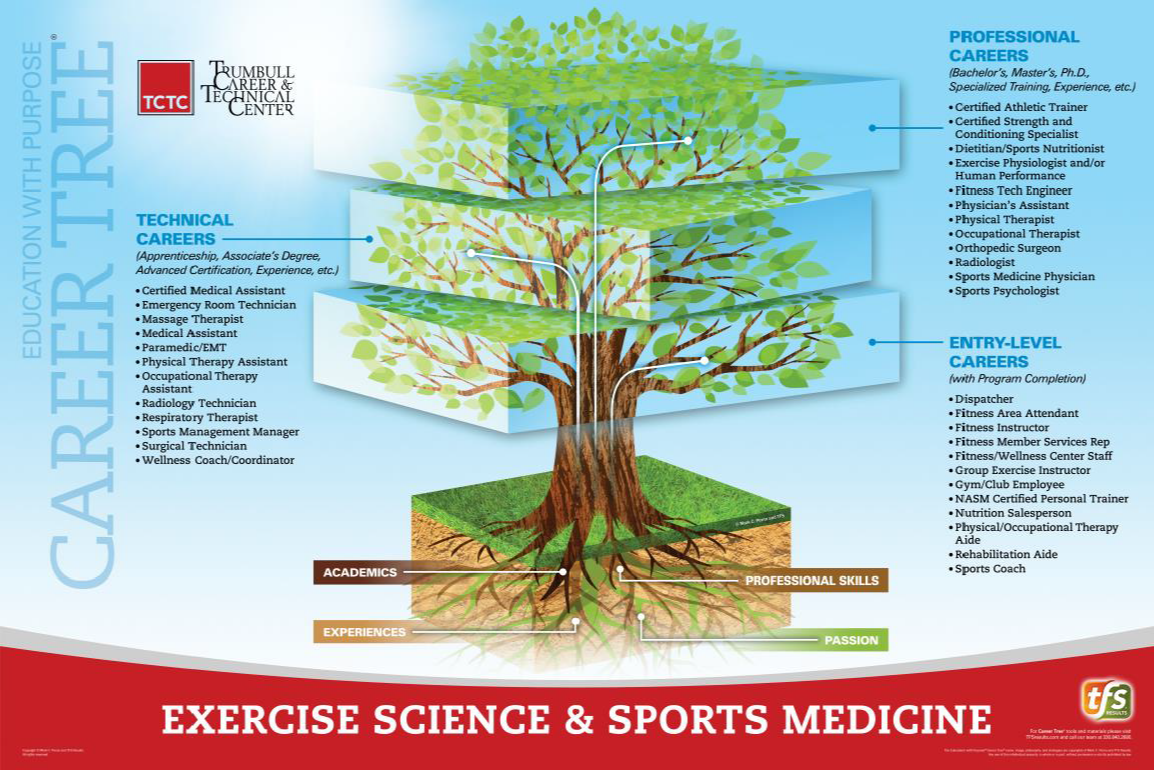 Earn College Credits and Certifications
Students in the program can earn their American Heart Association HeartSaver First Aid, CPR & AED certification, National Academy of Sports Medicine Personal Trainer Certification, OHSA for the Healthcare Industry certification, HIPAA Training, and the National Federation of High School Sports/CDC Concussion training.
We offer students a variety of college credit options. View our statewide credit agreement.
Up to 9 credit hours in Exercise Science and Medical Terminology that articulate with all state schools in Ohio