Explore the HVAC-R Program
Students in the HVAC-R program design, test, diagnose, repair, and install heating and air conditioning systems. They fabricate and install duct systems and learn the fundamental concepts of electricity and refrigeration.
Engage, Experience, and Learn
In HVAC-R, students learn basic concepts and theories of heating, air conditioning, and refrigeration. They read plans and blueprints and they learn electrical skills, sheet metal skills, computer diagnostic fundamentals as applied to HVAC-R, and problem solving skills.
Students prepare for immediate employment, certifications, and further education. They also participate in SkillsUSA, a career and technical student organization, that prepares students for careers in trade, technical, and skilled service occupations.
Discover Career Opportunities
Explore our career tree to learn about the wide variety of professional opportunities that students are prepared for upon program completion or with further education.
Entry Level: Apprentice Refrigeration Technician, Duct Installer, Small Appliance Repair Apprentice, Weatherization Installer, HVAC Technician, Sheet Metal Worker


Technical Careers: HVAC Lead Installer, Fire Suppression Installer, Sheet Metal Fabricator, HVAC Mechanic, Refrigeration Service Technician, Boiler Operator


Professional Careers: Mechanical Engineer, Project Manager, Ventilation Designer, Power Management Engineer, Journeyman Sheet Metal Fabricator, Power Plant Manager, Project Estimator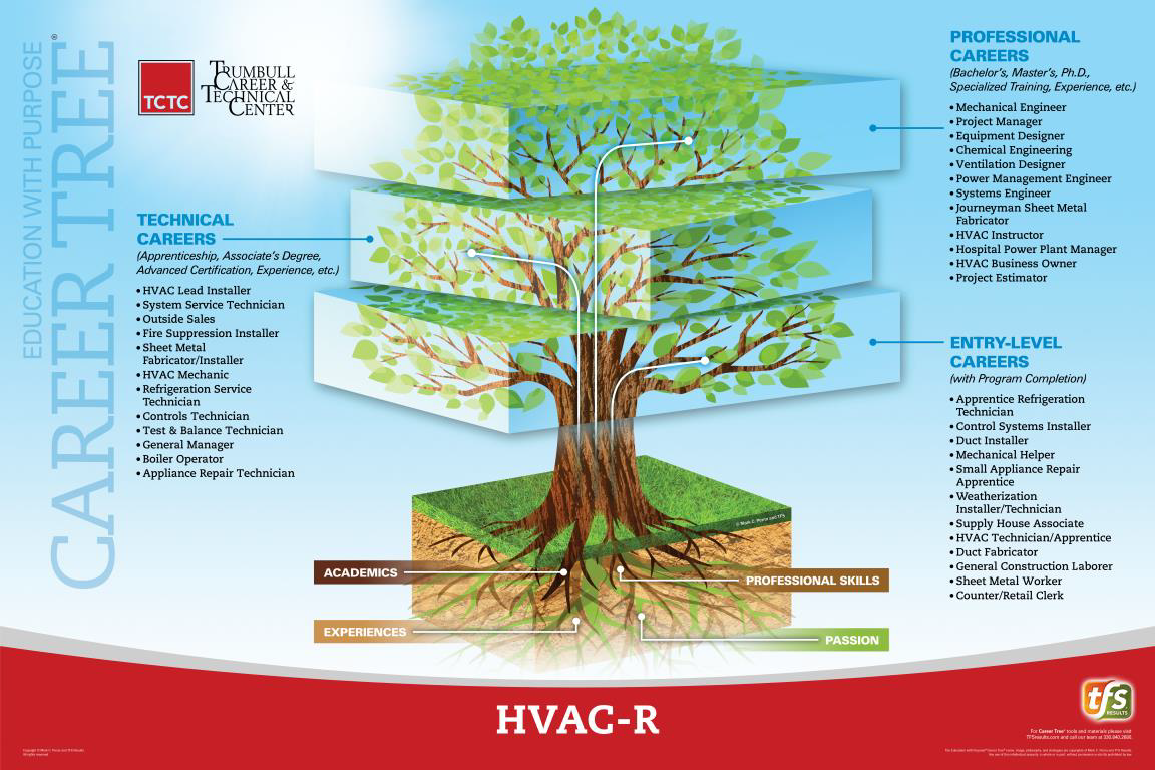 Earn College Credits and Certifications
Students in the program can earn their NCCER CORE Certification, EPA Refrigerant Recovery Core + Level 1 (small appliances), and OSHA 30 Certification.
We offer a variety of college credit options for students. View our statewide credit agreements.
Kent State University, up to 30 credit hours towards Associate of Technical Studies