Explore the Veterinary Science Program
Veterinary Science students explore the field of animal care, including animal health, clinical procedures, clinical terminology, and disease prevention. Students in the program develop and apply professional grooming and animal care skills. They also cultivate office management and support skills while providing excellent customer service.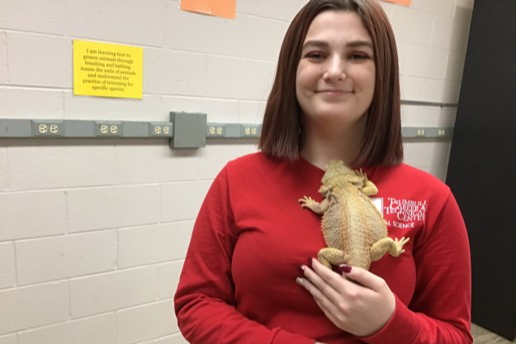 Engage, Experience, and Learn
Students in the program learn animal nutrition health and reproduction, small animal science, veterinary science, business and animal management, animal health, aquarium management, grooming, bird and cat management, American kennel club dog breeds, parasitology, diseases, and surgical preparation.
Students participate in FFA, a career and technical student organization, that prepares members for premier leadership, personal growth, and career success through agricultural education.
Discover Career Opportunities
Explore our career tree to learn about the wide variety of professional opportunities that students are prepared for upon program completion or with further education.
Entry Level: Veterinary Technician Assistant, Pet Groomer Assistant, Pet Adoption Counselor

Technical Careers: Veterinary Technician, Pet Groomer, Wildlife Rehabilitator, National Park Naturalist, Animal Therapist Assistant

Professional Careers: Veterinarian, Animal Rights Lawyer, Animal Pharmacist, Zoologist, Marine Biologist, Animal Pathologist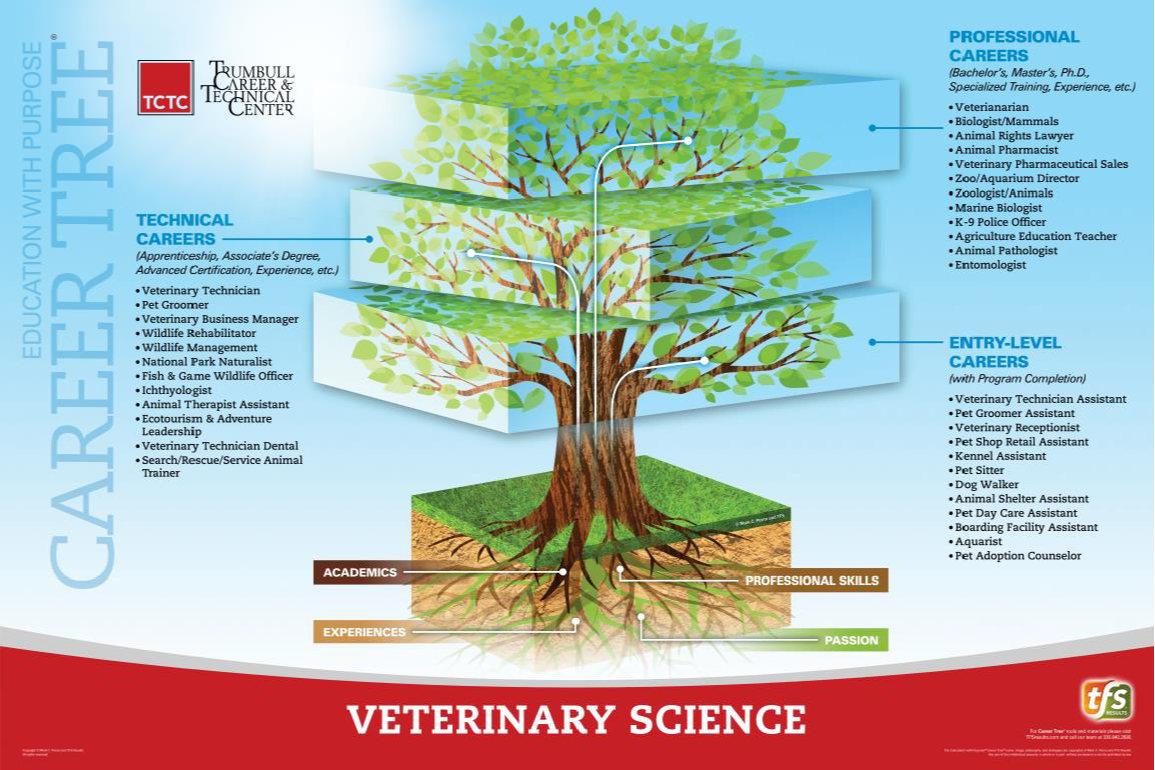 Earn College Credits and Certifications
Students in the program can earn their American Red Cross Human First Aid Certification, American Red Cross Pet First Aid Certification, Animal Care Training Certification, Basic Grooming Certification, and OSHA Certification.
We offer a variety of college credit options for our students. View our statewide credit agreement.
Cuyahoga Community College, 1 semester hour in Veterinary Terminology

Eastern Gateway Community College, up to 9 credits in Business Management

Washington State Community College, up to 4 credits towards Agribusiness Management

Kent State University, up to 2 credits towards Associates of Applied Science, Vet Tech