Congratulations to Mr. Kristofer Doran and Mr. Michael Pozega on being selected as GCP RITE Teacher Reward winners for the 2019-2021 school years. Both instructors were recognized for demonstrating a passion to ensure students have access to a wide array of experiences to help them consider, understand, and explore IT as a potential career path.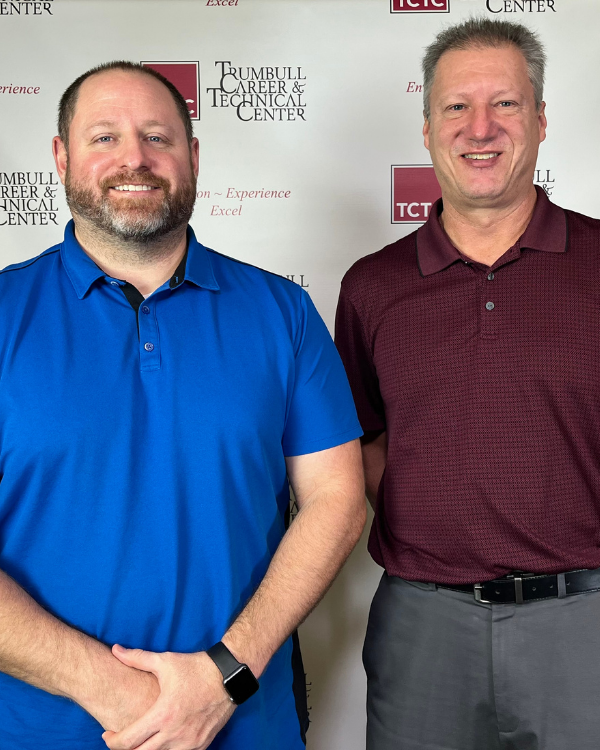 We are currently collecting donations through Thursday, December 9 for TCTC's annual holiday basket give-a-way. Students, staff, members of the community, and families visiting us at Open House are welcome to participate by dropping off items in the cafeteria tomorrow. We are collecting dry foods, household essentials like toilet paper and paper towels, games and puzzles, laundry detergent, etc.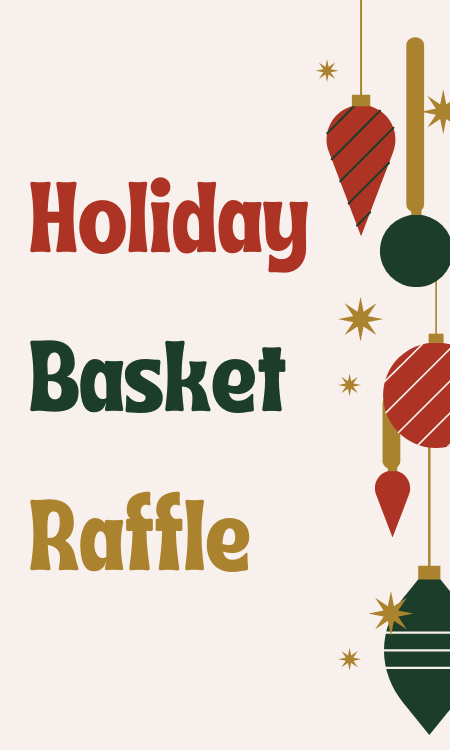 Check out this month's Literacy Contest related to the school-wide Achieve3000 article and Veterans Day. Students will be selected to be filmed reading their poems for the Veterans Day program, and one grand-prize winner will receive an Amazon gift card! Entries are due by noon on November 5.
https://www.smore.com/vxsha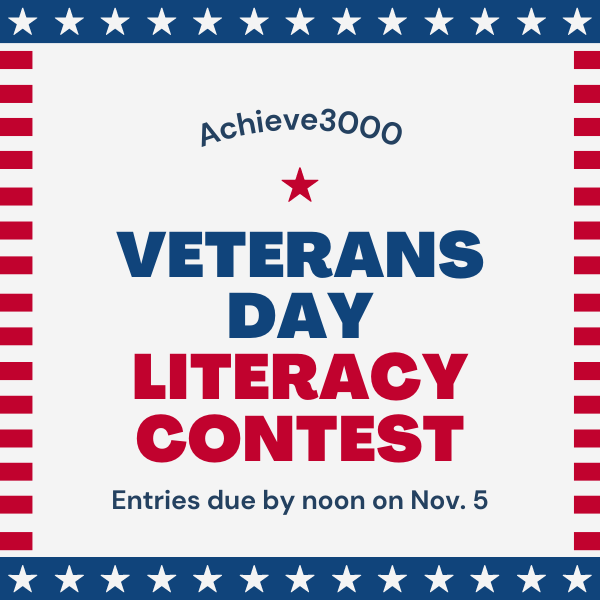 Our senior cosmetology students are preparing for their annual Spa-A-Thon fundraiser. This year the fundraiser will take place on November 4. This event allows our students to fund their state board test in a way that allows them to practice customer service while learning under the instruction of Mrs. Maras and Mrs. Cornich. We encourage you to explore the services being offered and invite you to join us! To make an appointment, please call Mrs. Cornich at 330-847-0503 ext. 1043 or Mrs. Maras at 330-847-0503 ext. 1032.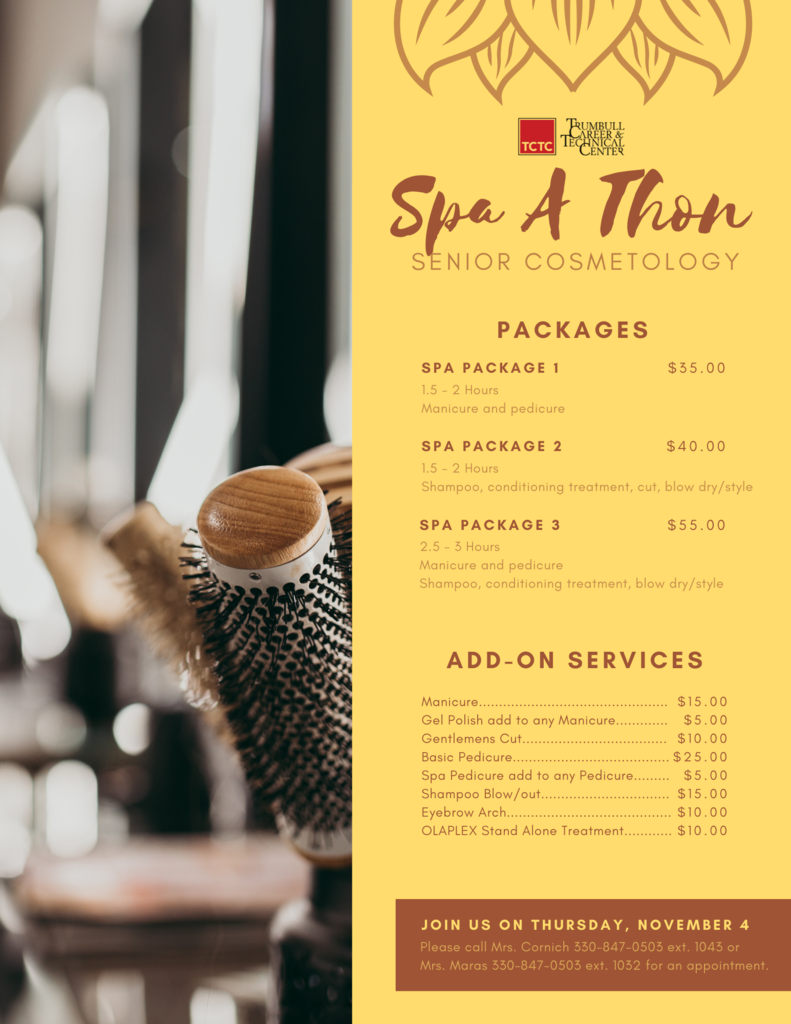 TCTC's Future Farmers of America (FFA) career and technical student organization is hosting a fruit sale/fundraiser. Students are selling fruits, cheese, and meats to help raise money for FFA shirts, candy for trunk or treat, food for FFA meetings, and funds for many competitions. Programs included in FFA are Power Equipment Mechanics, Veterinary Science, Equestrian Studies, and Landscape Design & Technology. FFA gives high school students the opportunity to learn about money control, fundraisers, leadership, and so much more. FFA has helped students find a career path when it comes to competitions throughout their high school career. FFA adds to the fun of education as members learn by doing, and that brings agricultural education to life. FFA unlocks the secrets to becoming your personal "best" from academics to leadership skills to career know-how. The organization offers experiences that help students succeed in their personal and professional roles. If you are interested, the fruit sale is happening now through November 11. The products being sold will be delivered on December 6-8. To place an order for the fundraiser, please contact Mr. Fraley at 330-847-0503 ext. 1309 or Mrs. Billock by email at
cathy.billock@tctchome.com
. The fundraiser order form can be found here:
https://5il.co/1123y
.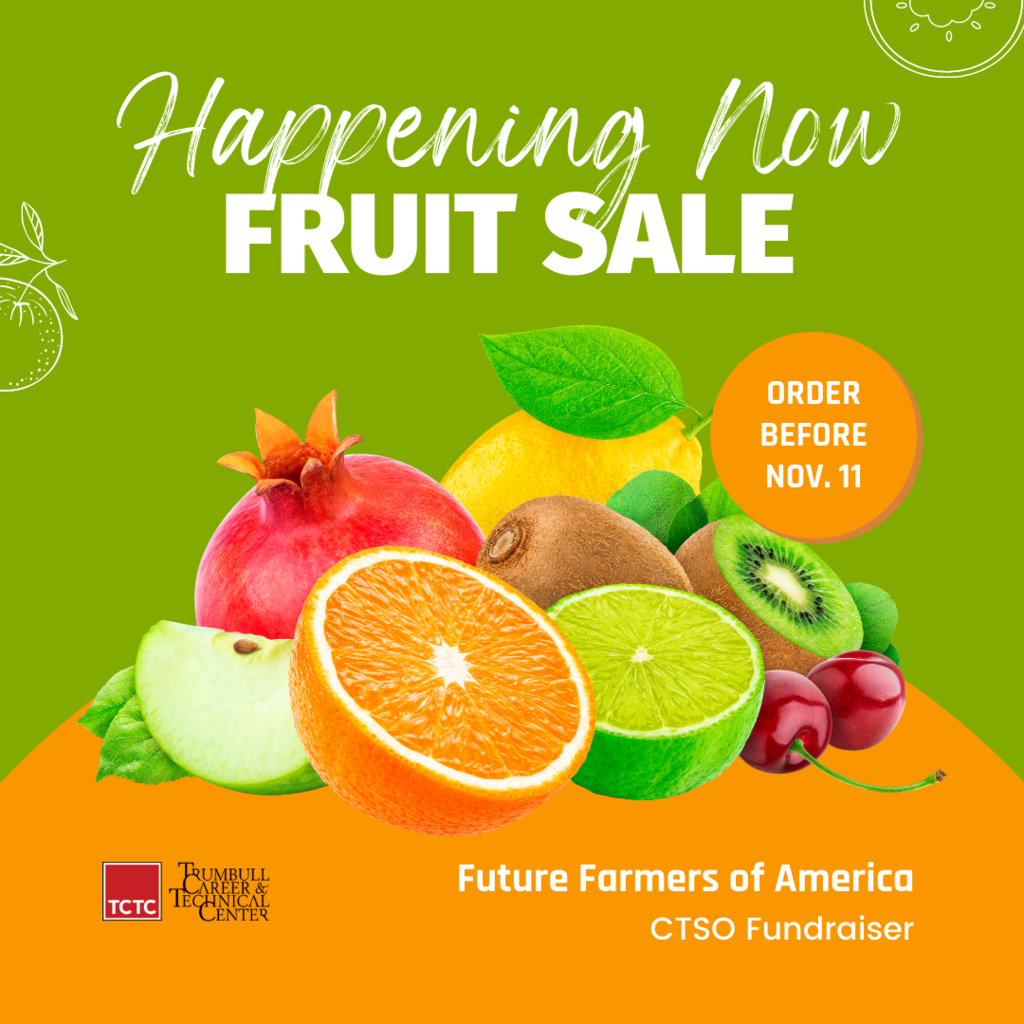 TCTC and Modern Dental Concepts are partnering again! We are offering free dental services for veterans on Friday, November 19 from 8:00 am - noon. Call 330-847-0676 to make an appointment at Modern Dental Concepts.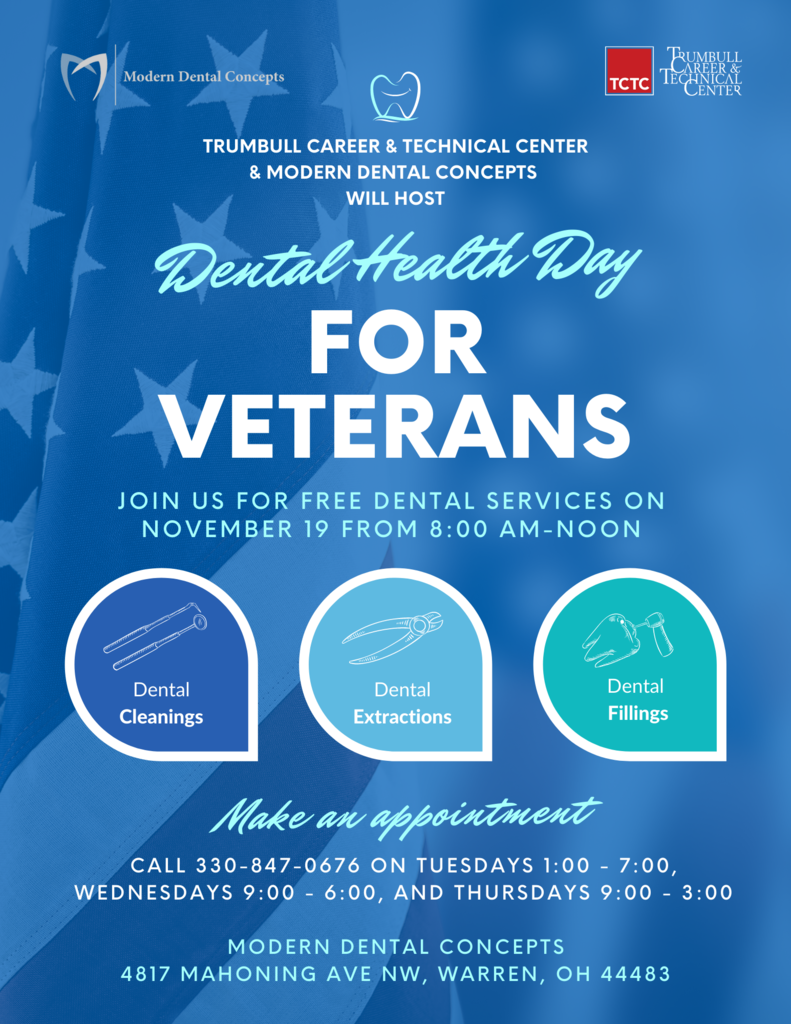 Fall picture day retakes for juniors are scheduled for Monday, November 15 at the TCTC. To order online visit inter-state.com/order. The order code is 60134JB. Payments can be made online using your debit card, credit card, PayPal, Apple Pay or Google Pay.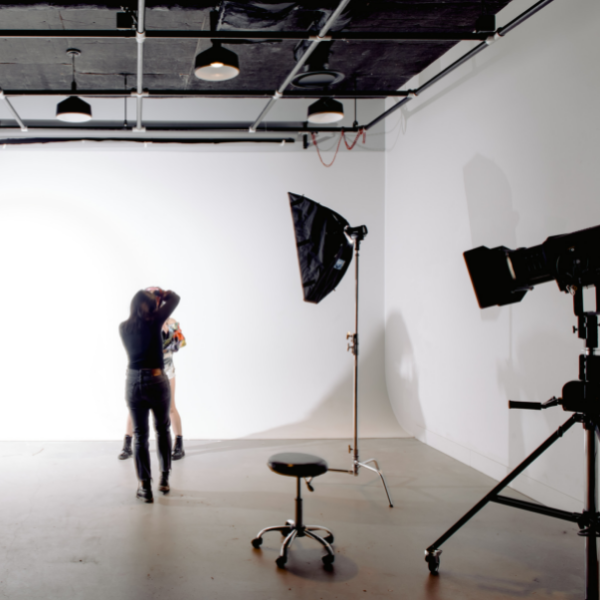 Costumes, candy, and community fun! TCTC is having a Trunk or Treat on Thursday, October 21 from 5:30-7:30 pm.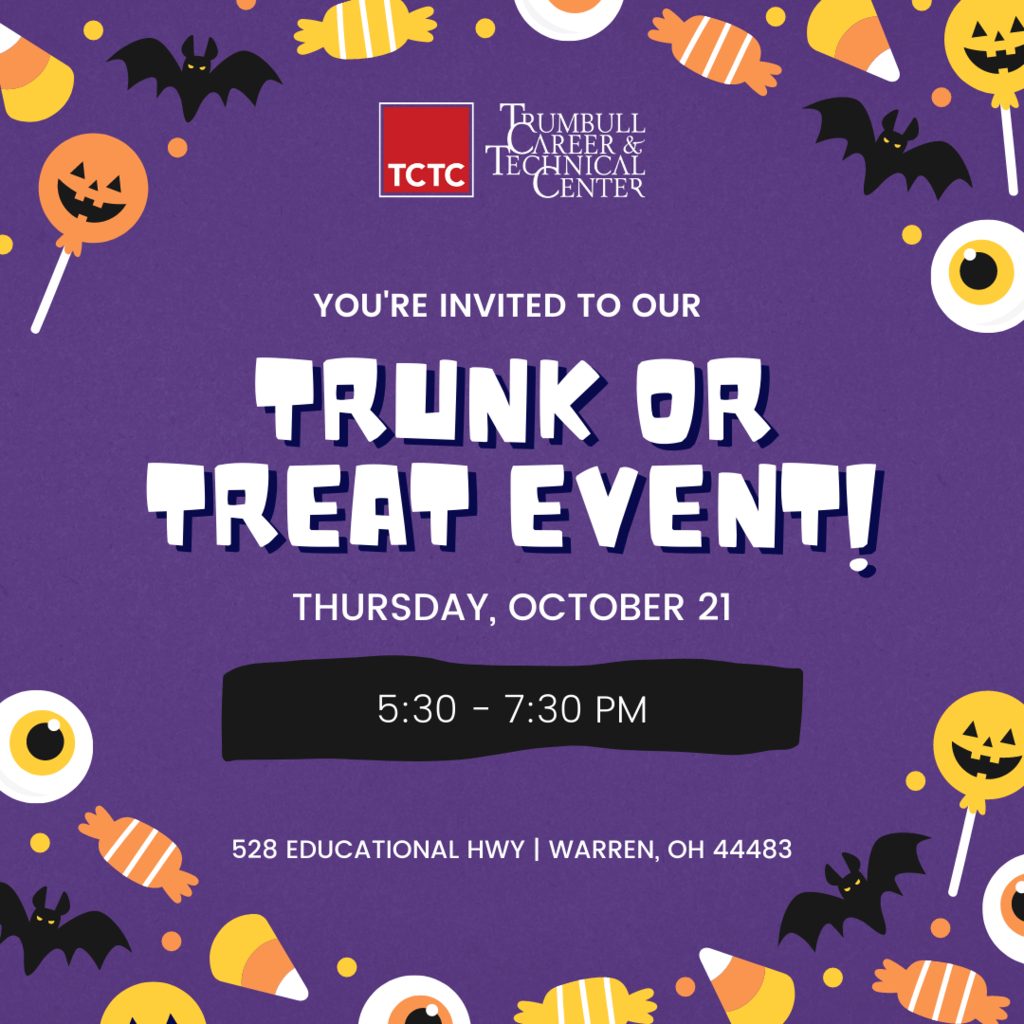 Are you involved in an extracurricular activity at your home school? If so, tell us about it! Our Interactive Multimedia students would like to feature your activity, team, or club in an upcoming episode of TCTC Time. Complete the form today!
https://bit.ly/extracurricular-activity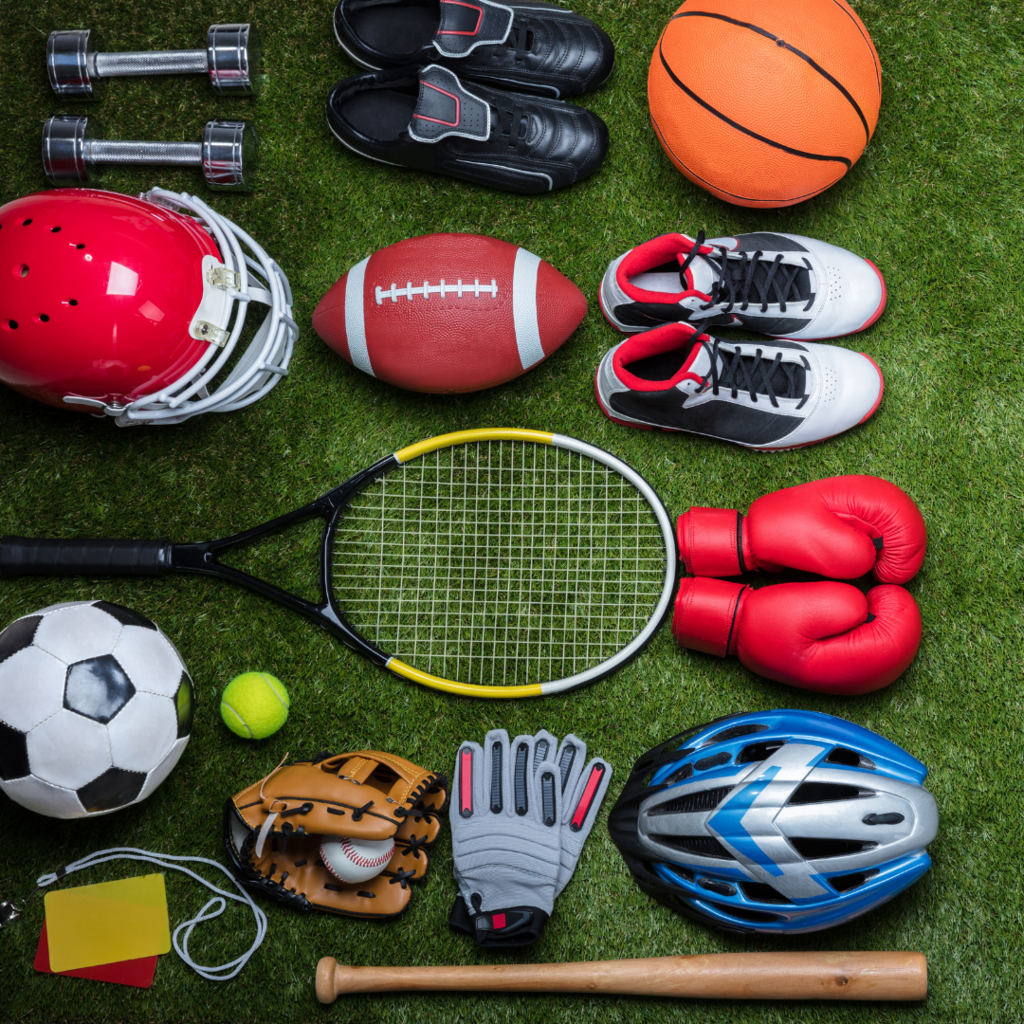 Don't forget to show your spirit all week long by participating in our attendance awareness month spirit week! Monday - Camo day, Tuesday - Wear your CTSO shirt, Wednesday - Crazy sock day, Thursday - Dress like your program, and Friday - Flannel Friday!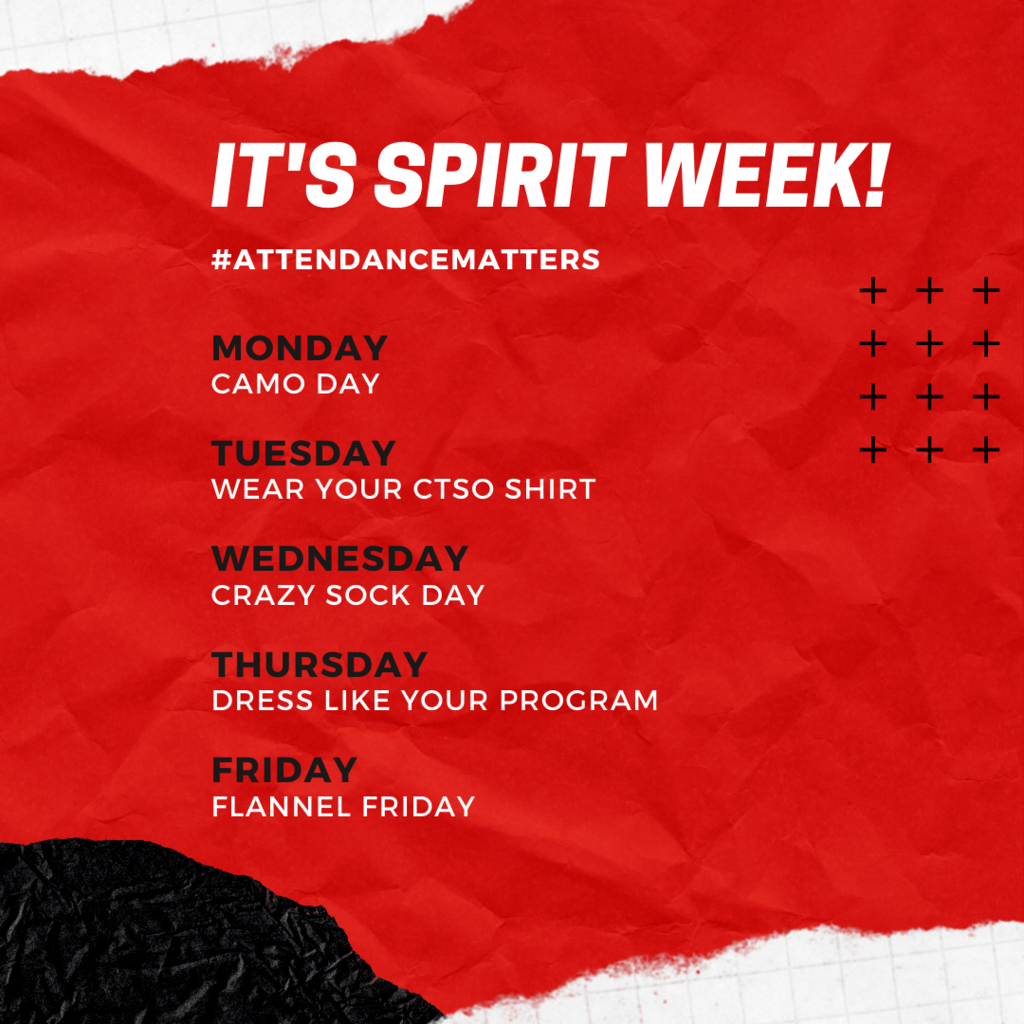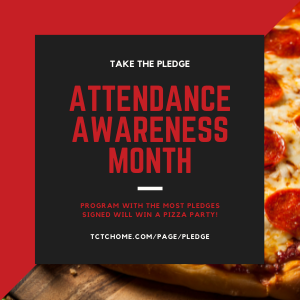 PICTURE DAY! Picture day is scheduled for Monday, October 11, 2021. The Trumbull Career & Technical Center event order code is 60134FF. To preorder online visit inter-state.com/order.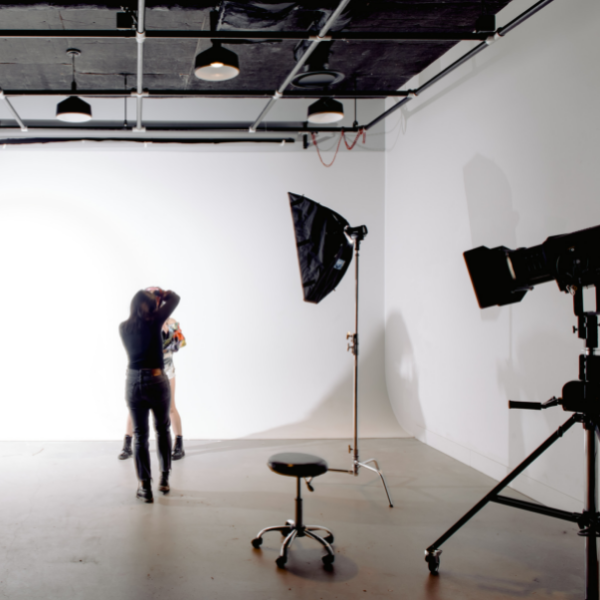 As a reminder, students should not report to our building on Friday, September 3. Tomorrow will be our first of seven scheduled Professional Skills course days. Students will have assignments in their online course to complete during this time.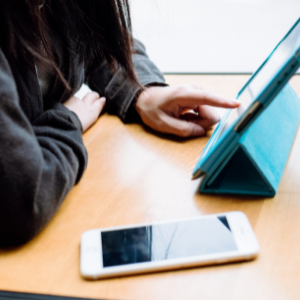 Due to the number of student drivers and parent pick-ups, we are changing our drop-off and pick-up patterns. Please pay attention to the officers and administrators who will be managing traffic at the beginning and end of the day. We know that this process will continue to improve, and we thank you for your patience this first week of school. In addition, we are asking those recycling at our campus to do so outside of the following times. 7:15 - 8:00 a.m. and 1:15 - 2:30 p.m.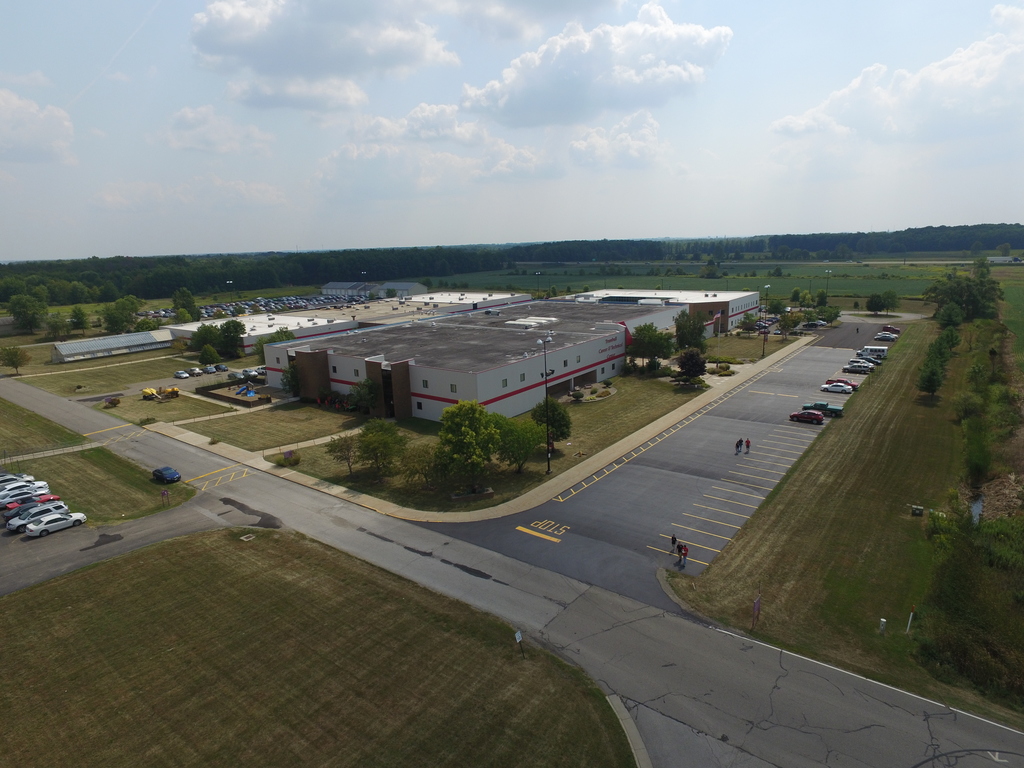 Juniors and seniors should have received a back-to-school mailing the first week of August. If you did not receive this mailing, contact Mrs. Goff at 330-847-0503 x1005 to ensure your proper mailing address is on file. If you have any questions regarding student forms, contact Mrs. Marin at 330-847-0503 x1035.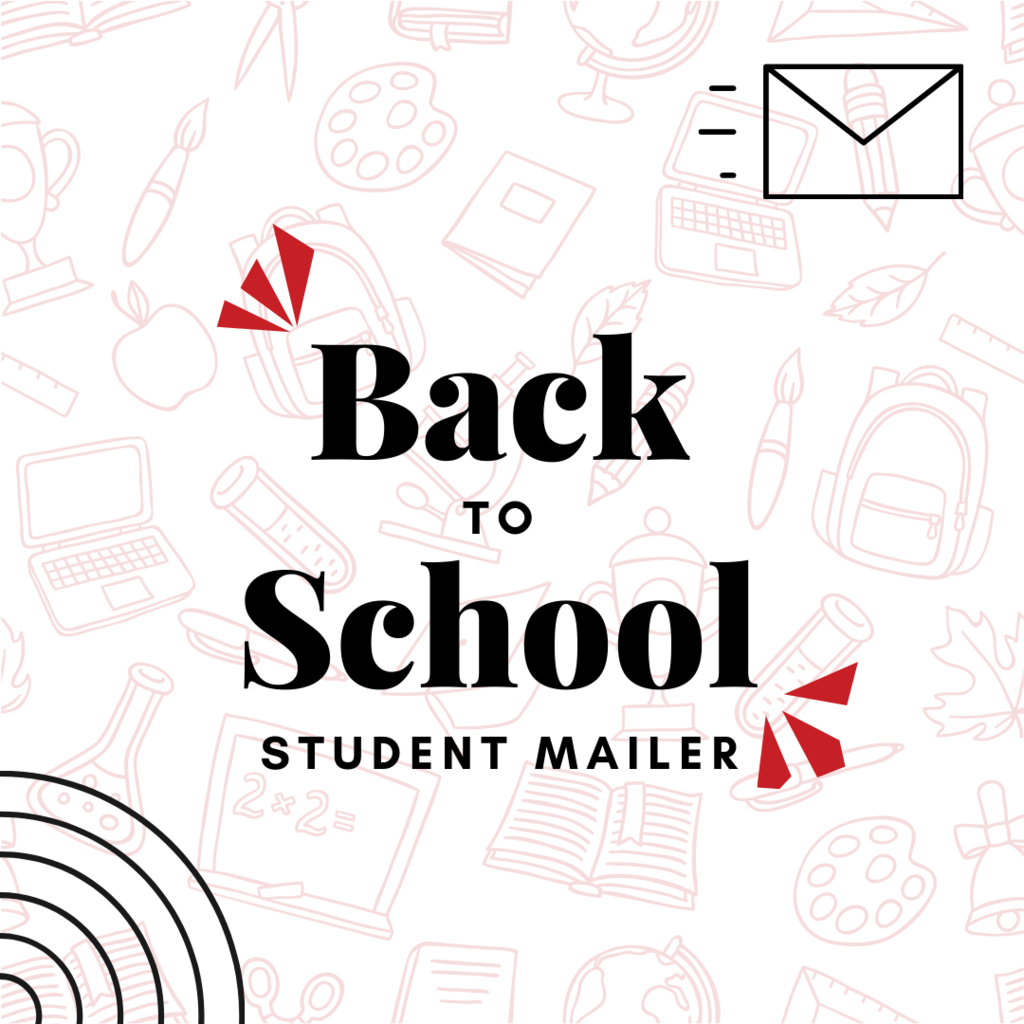 Recycling at the TCTC campus is open to everyone in our community, and we are happy to offer this service. Unfortunately, there has been an increase in the amount of litter and non-recyclable waste left on our property, as you can see in this image. We kindly ask those who utilize our recycling services to respect the property by disposing of recyclable materials only. Without this cooperation, we will be unable to maintain recycling efforts on the TCTC campus. Thank you for helping us support the environment.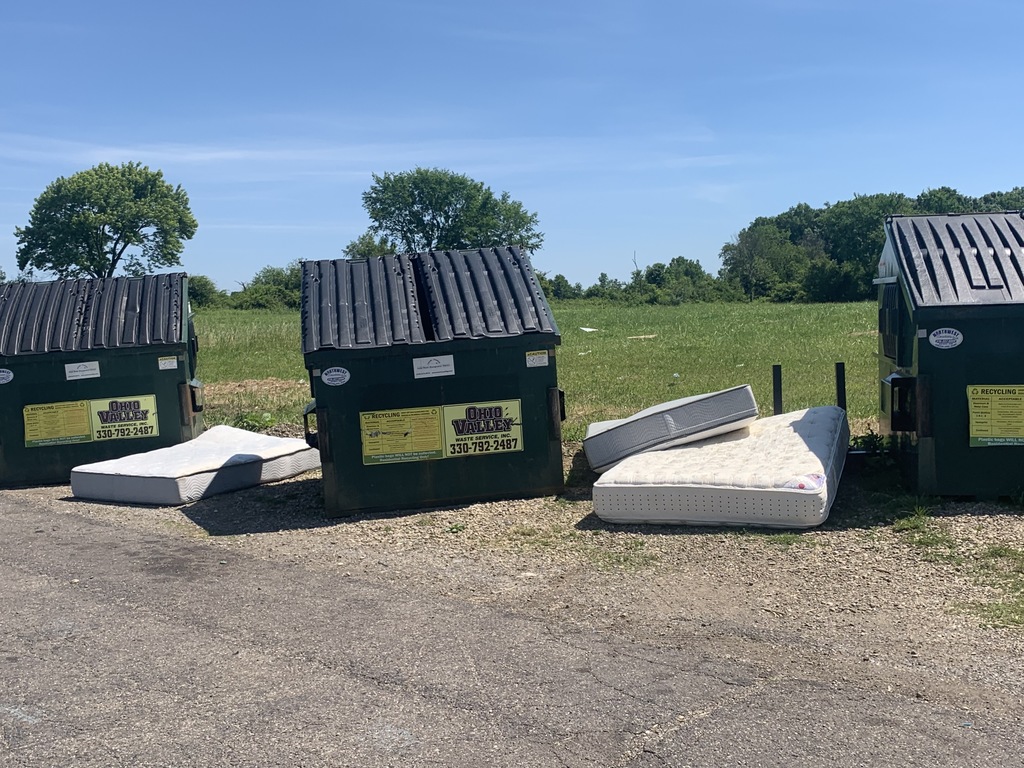 School Yearbooks Coming Soon! Our school yearbook is almost complete as we work to include photos of the senior completion ceremony. Due to how we are selling the yearbooks, we are unable to publish the sales link until the book is finished and uploaded to our online book store. When finished, all students will receive an email to their TCTC account as we did for last year's yearbook. You can view a free online PDF version of the yearbook, or you can purchase a physical copy that will ship to you directly. We hope to have this on sale in early July. The sales link for the yearbook will then stay open until at least the end of 2021.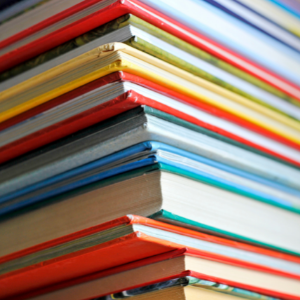 Lordstown Juniors — There will be a two-hour early dismissal on Friday, May 31.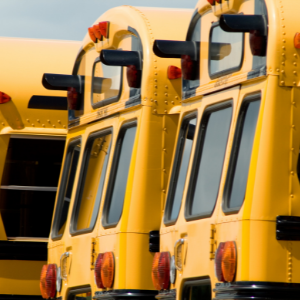 We are getting excited for our senior completion ceremony at Eastwood Field on Monday, May 17, from 7:30 - 9:30 pm. A fireworks display will take place immediately following the ceremony. This event is not open to the public, and tickets are required to enter the facility. To watch the ceremony via a live stream, please visit our website tctchome.com. We cannot wait to celebrate our seniors!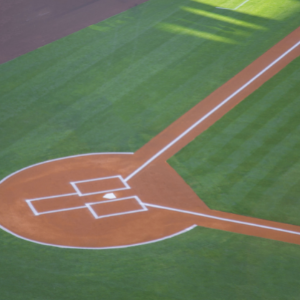 The FCC's Emergency Broadband Benefit program opens today. Please review the attached flyer to learn more about how families can apply for internet service discounts and one-time technology discounts.
https://5il.co/skgl